All of us are here for a purpose — our life is our ministry, whether we're ordained or not. The sad truth is many drift through life, never really achieving a life of meaning or living into their God-given potential.
If you are ready to take your work, your ministry, your life to the next level, I'd be privileged to partner with you on the journey.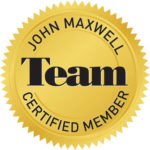 In me you'll have a coach who asks powerful questions, is solely focused on your success, and believes Holy Spirit guides the way to deep discovery and meaningful "aha" moments.